The

Swing Report

Our weekly digital publication of actionable swing trade setups – published every Sunday with new trade ideas for the week ahead

, and regular updates from the team as the trades develop

.
Macro-Economic Summary
Understand why the market responded to economic developments and stay on top of future market-moving events.
Review of Major Indices
Stay on top of relative strength and weakness in the major indices.
Detailed Sector Analysis
Ensure that your trade idea is supported by its relevant sector.
FunTech Stock Selection
Get trade ideas with consideration of fundamental developments like changes in rates and cyclical seasonality.
Key Levels Indication
Trade with clear levels for entry zones, stops, and profit targets.
Prior Trade Setup Tracking
Never miss a move with dashboard alerts for when price comes into trade zones and gets to exit locations.
Relative Rotation Graph Usage
See where intra-sector capital is flowing with relative rotation graphs.
Time-Sensitive Swing Setups
Get trade ideas and setups as they develop in real-time via updates from the team pushed to the SR dashboard and via email.
Swing Focused Technical Analysis
Curated potential trading opportunities based on price action and with a time horizon spanning from days to months, driven by FunTech, our proprietary mix of Fundamentals and Technical Analysis.
Macro-Economic Summary
Our comprehensive macro summary of the markets gives you insight into market-moving events and a comprehensive view of the overall market on the daily and weekly charts.
Ticker Relative Rotation Graphs
Using the relative rotation graph, we track capital rotation to generate trade ideas aligned with where capital is flowing.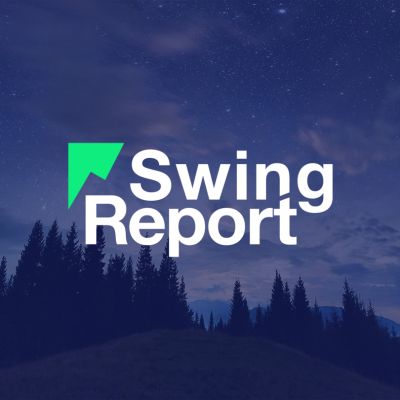 Major Index Analysis
We meticulously review all major markets and identify key levels, giving you the insights you need to make well-informed decisions.
Sector Rotation Tracking
Follow the money as we monitor the shifting focus of institutional investors to be prepared for future trade opportunities.
Weekly Swing Trade Highlights
Our use of technical analysis allows us to spotlight trades with the highest profit potential, providing you with key levels and actionable signals.
Every trade idea is presented complete with a conservative entry zone, a target, and a stop-loss level clearly defined...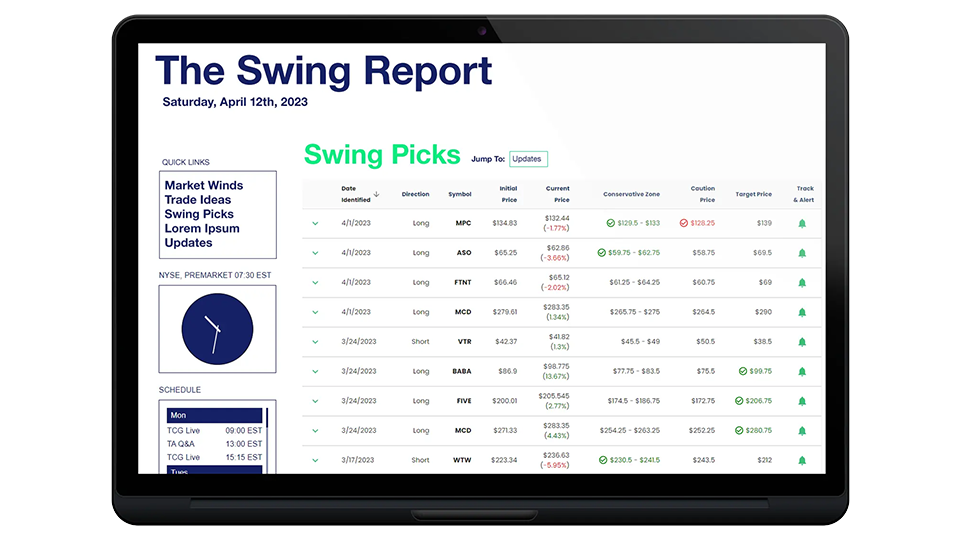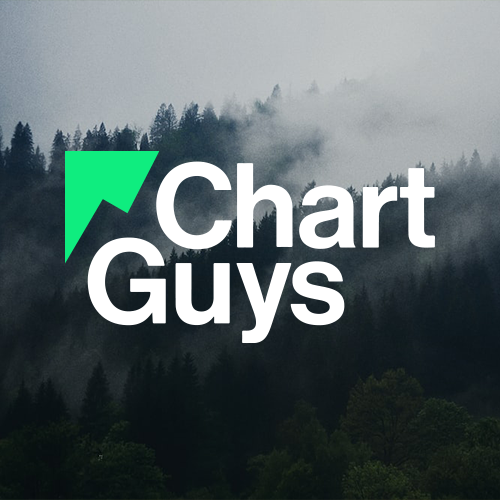 We'll Set You Up
For Success
Let the TCG Swing Report team – comprised of Lamont, Lori, Dan, and Joey – bring you regular trade ideas and updates to learn from, or to trade along with...

Lamont Yu
Weekly trade ideas and updates from an experienced trader with a focus on volume profile analysis utilizing just price and volume.

Lori McGwire
The ChartGal everyone loves will give you a weekly rundown on the major indices and things to look out for in the coming week.
Dan McDermitt
Get trade ideas spanning across all assets from the master himself whenever they arise.

Joey Hayes
TCG's commodities specialist rounds out the team to ensure coverage of all major markets.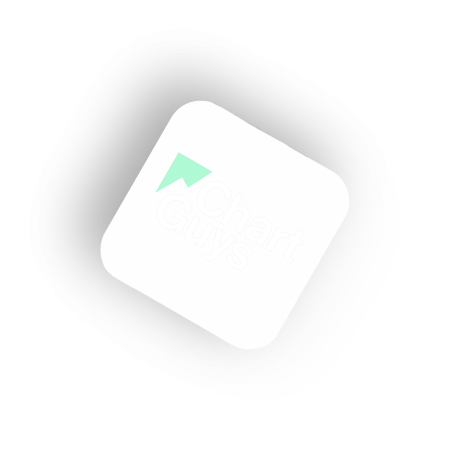 ---
Guidance, Alerts &
Timely Updates
As a subscriber, you'll benefit from a range of exclusive features and services designed to keep you updated and in the loop at all times.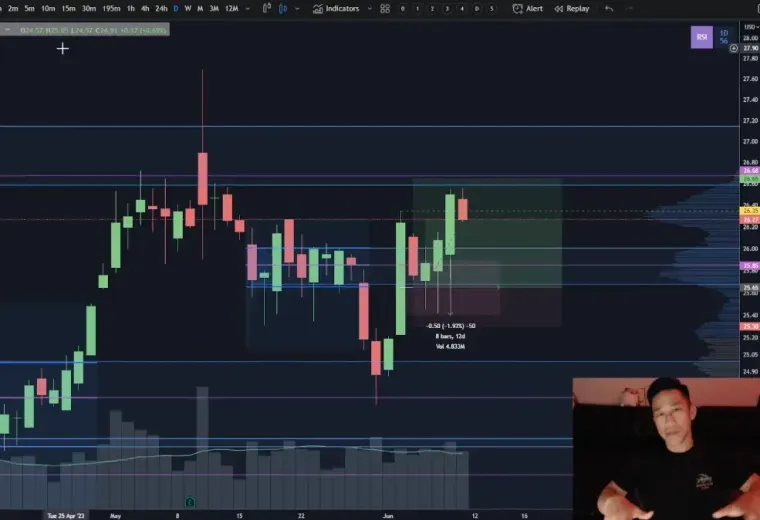 Weekly Videos
Exclusive access to our weekly videos - a wealth of knowledge meticulously designed to guide your trading journey.
These videos offer a thorough review of current market conditions and sector trends, carefully examined by our seasoned experts. Each video introduces individual trade setups and delineates key levels, providing actionable insights that empower you to execute your own trades with confidence.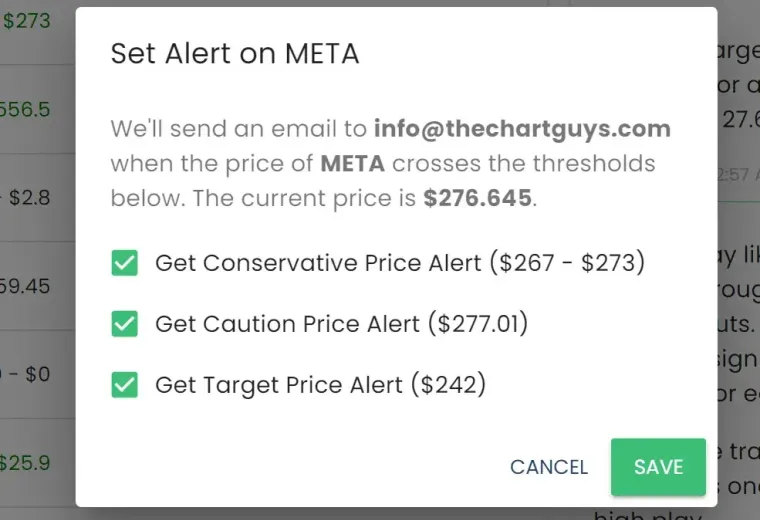 Automated Alerts
Our service goes a step beyond simply providing insights - we bring those insights directly to you with our automated alert configuration feature.
You'll receive emails notifying you when prices hit key levels, keeping you abreast of critical market changes in real-time. But we understand that every trader is unique, so you can subscribe to just the specific names you are trading.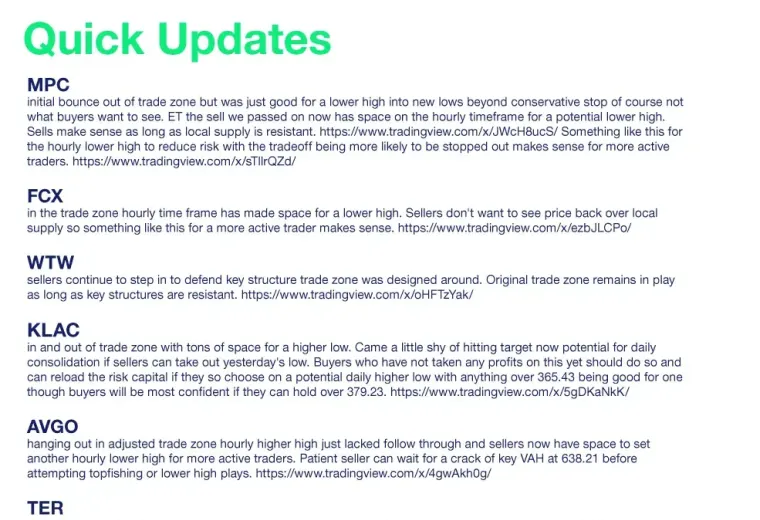 Frequent Updates
Timely updates on positions and be alerted to new opportunities throughout the week, because in the dynamic world of trading, staying current is key.
Our team continuously monitors the market, sector trends, and price movements, translating these insights into actionable recommendations, whether it's an update on an existing position or the emergence of a promising new trading opportunity.
Educational Videos
Access dozens of hours of educational resources covering a full range of trading related topics including how to identify appropriate context for trades, risk management, trading psychology, and more!
Previously exclusively available as part of the Chart Guys community membership, our educational content has been fully opened up to our Swing Report subscribers and is regularly updated by the whole team.
What our subscribers are saying…
@ChartGuys-Lamont, thank you for your trade opportunity video - it is brilliant. Fantastic addition to the Swing Report, please keep them coming! 👍

Thanks to Lori's best-of-the-bunch trade list in the thread update today (KLAC, LPX, CROX, UPST, SCHW) I scooped some of each this morning and have already paid for my new Swing Report yearly subscription. Thanks to Lamont for getting back to me about some questions I had.

Up 200% on my MTCH calls. @ChartGal-Lori @ChartGuys-Lamont Thank you guys!

Thanks Lamont, the weekly Swing Report is helping me analyze/study set-ups. Definitely more learning than trading at this point. Appreciate your time.

You're awesome! 🤩 Lamont, thank you so much for your time. I completely understand now and know what I'm watching for.
Flexible
Subscription Options
Immediate monthly-rolling access at an affordable price, perfect for those who want to test the waters of swing trading.
Committed to optimizing your trading strategy over the long term? Our annual plan provides the most cost-effective solution.
Access to Educational Videos

Month-to-Month Flexibility
Access to Educational Videos

12 months for the price of 10
Subscribe
Today!
Take your trading game to the next level with the Swing Report, where every move is a calculated step towards your success! We look forward to welcoming you as one of our subscribers.
Follow Us On Social Media